Most knitters have three types of friends: friends who knit, friends who tease you about your knitting and call you "Grandma," and the friends who gush over the lovely things you make -- "I wish I could do that!" or "I should learn how to knit!" (And yes, there can be overlap between those last two groups.)
There are also two types of knitters - those who knit socks, and those who don't. If you're in that first group, this post will speak to you. If you're in the second, I hope it will inspire you! ☺
Sock knitting is one of those things that is super intimidating...and then you actually make a sock. Then it's like knitting crack (don't laugh, you know it's true), and you
always
have at least one pair of socks on the needles. Right now I have two, and I just bought a new sock needle in my preferred size so I can have three. (See what I mean about crack?)
Also, it is a proven fact that sock yarn does not count as stash.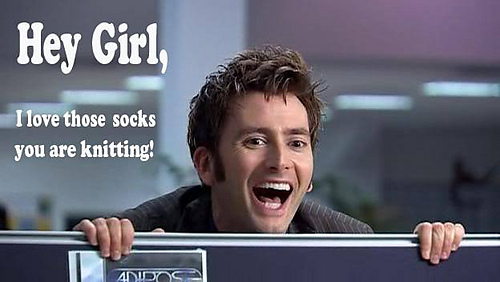 The Doctor approves of your sock-knitting addiction
Which makes my stash really
really
small. Hahahahaha.
This past weekend I took my cousin (who is a fairly new knitter) to my favorite local yarn shop, and proceeded to
get her addicted to crack
introduce her to the joy of handknit socks.
Sheepish Yarn BFL Sock Yarn in
the Okauchee Lake colorway, from
Her birthday is this month, so I supplied her with a good circular needle for magic loop, and a skein of a lovely blue locally dyed sock yarn (photo at left). I also gave her some fabulous seamless stitch markers from
the (proverbial) wall shop
. (They make great gifts! hint hint)
A few hours, a little bit of math, and a couple of YouTube videos later, and she has the beginning of the toe of her very first sock. It's a wonderful thing to watch - it makes me remember how I felt when I cast on my first sock. (Which, by the way, was only like a year and a half ago - and I've been hooked ever since!)
While I do occasionally knit on double-pointed needles (DPNs), I prefer to knit my socks one-at-a-time using the magic loop technique. And although my first few pairs were done two-at-a-time, I'm immune to second sock syndrome (so far).
For those of you who are sock novices, second sock syndrome (known as SSS) is when you finish a really lovely sock...and then you have no desire to cast on its mate. Not good, which is why many knitters like to make their socks two-at-a-time (TAAT) - either using magic loop or the 2 circular needles technique. I've learned that as long as I take good notes for my Ravelry project page, I don't mind doing them one-at-a-time.
So, any sock knitters out there? What are your favorite techniques/yarns/needles/patterns for socks? Do you use DPNs or circulars, prefer toe-up or top-down construction, what heel do you like? If you haven't attempted a pair of socks yet, what's holding you back? I'd love to hear from you in the comments.
Happy sock knitting!